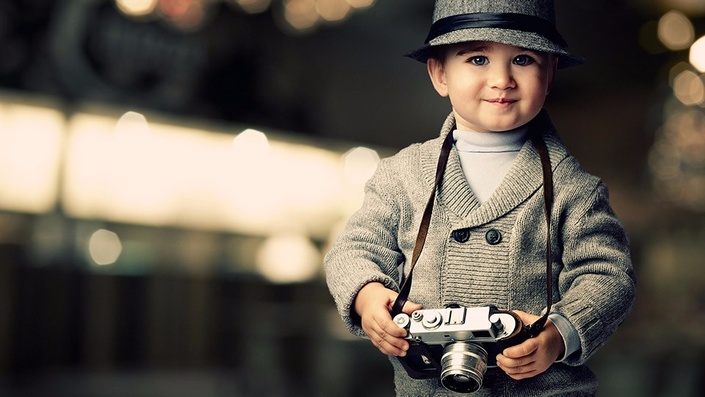 80/20 Confidence For Photographers
​Make the gremlin voices in your head shut the #@&$ up.
"I'm sick of being stuck in my own head."
Are you disappointed in your art? Discouraged by your lack of progress? Can't imagine why anyone would pay for your photography?
Are you sick of the negative voices inside telling you you're not good enough, the ugly gremlins that make you feel hopeless in your journey as a professional photographer?
Do you wish you could just 'get out of your own head,' take action, and make real progress you're proud of?
80/20 Confidence for Photographers is a five-day, action-packed course on confidence-building for photographers through fast action wins, situation exercises, bravery challenges, and mastering the art of GOYAKOD.
Watch me do the exercises and challenges on video right alongside you, including 'candid camera' captures of me doing public bravery challenges in the field.
This is the confidence jumpstart you've been wishing for.
If you have any doubts, just scroll down and check out the value-packed, action-oriented, results-driven Course Curriculum below.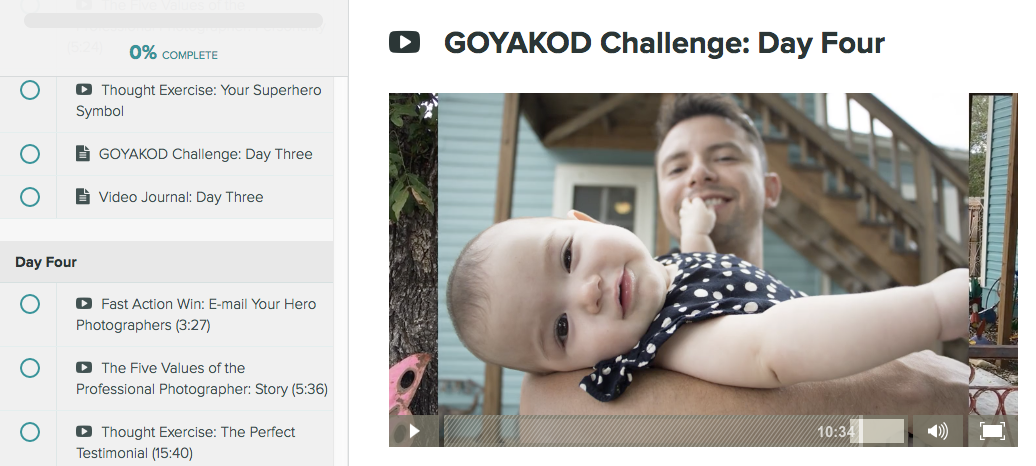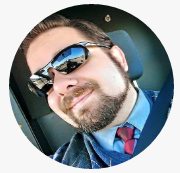 About James Michael
Hey, I'm James Michael Taylor, coach and encourager at www.PartTimePhoto.com and a 17-year professional photographer, and I have to be honest - I don't know a single real photographer who doesn't struggle with confidence.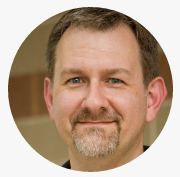 About Steve Arensberg
Hi guys! I'm Steve Arensberg, veteran writer, editor and story crafter for clients in educational publishing, law, business, and even hobby games. Throughout my career I've facilitated powerful change for corporations and individuals.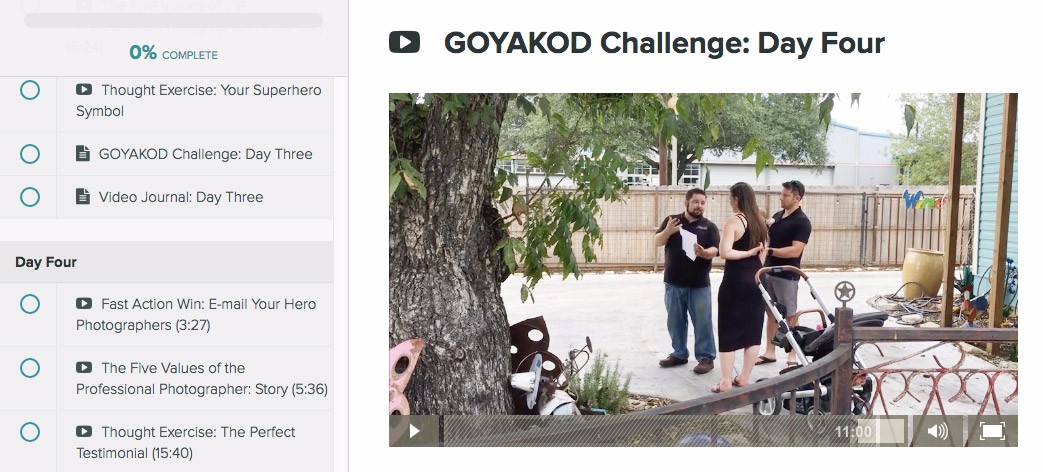 You don't have to hold back because of limiting beliefs and negative self-talk anymore.
We can change this. I know, because I used to be paralyzed by self-doubt just like you.
For example, it wasn't that long ago that the Bandera Convention & Visitor's Bureau asked me to photograph the marketing images for the town. I hedged, I shuffled my feet, I said I'd have to see if I could fit it into my schedule.
Here's where it gets interesting:
I had the time.

I could easily fit the job onto my calendar.


I had the skills.

They had seen my work for years and knew I could knock the job out of the park.


I had the need.

With my wife home taking care of the kids, we could sure have used the money.

So why couldn't I say yes?
It wasn't time. It was fear.
It wasn't that I wasn't able.
I was scared. I had no confidence. The negative gremlins inside beat me up so much that my clients could see the value I had to offer, but I couldn't. So I ran away. I made excuses. I didn't proactively market myself, and I didn't try harder to grow.
"My art's not good enough yet... I don't know what to charge... I don't have the right lens..."
All symptoms of a deeper problem, a disease of self doubt.
I never realized how my lack of confidence was hurting my dream as a professional photographer, and hurting my bank account, and my family.
If you're like me, instead of facing your fears and taking action, you consume.
Books, blogs, tutorials, magazines, videos, podcasts. You bury your fears in information instead of taking risks, experimenting, and earning feedback through bold action.
I thought if I just found the perfect hint or tip, suddenly I'd feel like a professional - I wouldn't get scared, I wouldn't hold back, and I'd have the success I wanted if I just tried hard enough.
But I was wrong.
All that consumption just gave me a dopamine rush. It felt like progress... But there I was, night after night, in front of the computer with no clients, no money, and no progress - nothing to feel good about.
It's easy to put your dreams off until another day. Way easier than embracing change. Way, way easier than choosing to face the challenge head-on.
Which is why so many fail. Why so many quit. Why so many live lives of quiet desperation.
If you're reading these words, you're honestly in a hard position.
You can look at this page, consider this course, and decide it's not right for you. No harm, no foul, this experience isn't for everyone. I hope you find your answers somewhere - I truly do.

You can see that this course has the rich material - fast action wins, situation exercises, bravery challenges, and a value-structured framework - that can enable a real, life-changing, story-rewriting breakthrough... But choose to close the tab, because you're scared... Because the gremlins are screaming, "You're not good enough! Don't even think about trying this!"

Or, you can see this course for the catalyst it is designed to be: a firestarter, a jumpstart, a friendly-but-firm kick in the arse

to get you off the couch, off the computer, and into the world with your art and business.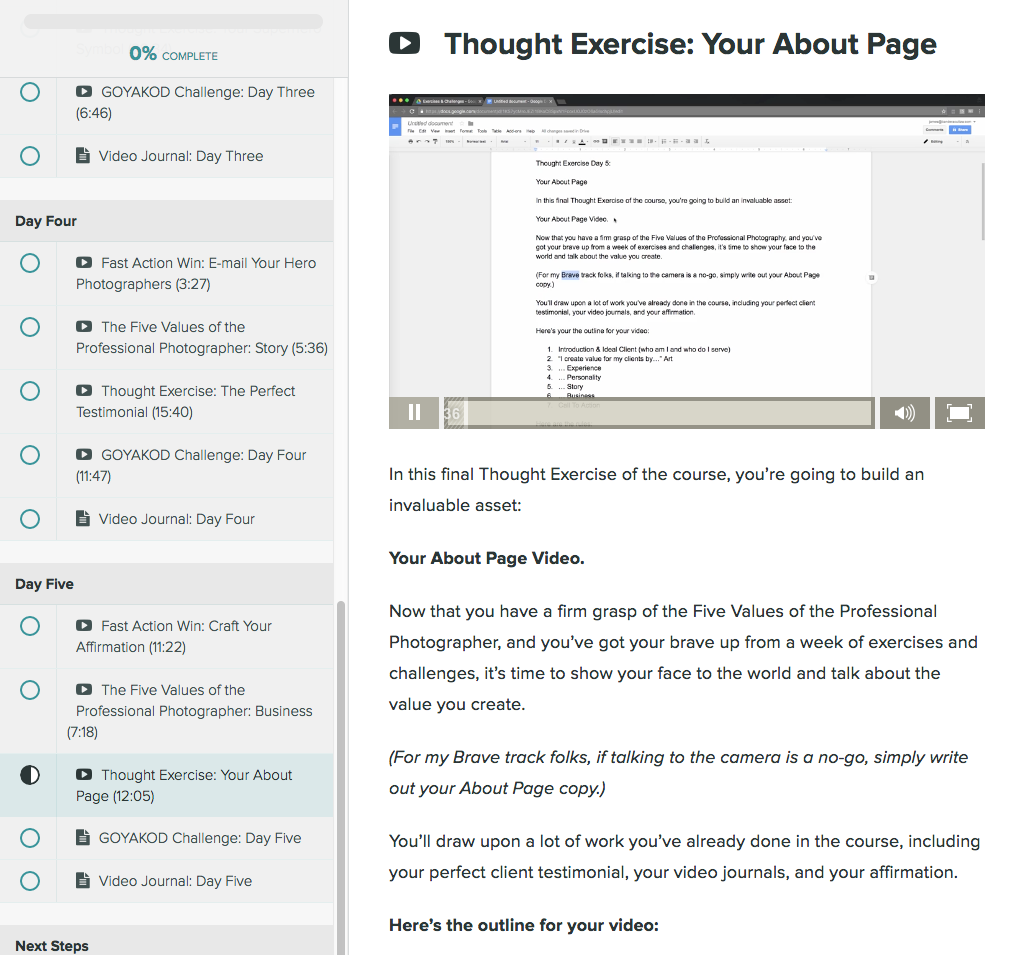 This course is hand-crafted to give you the confidence breakthrough you need to finally - finally - be proud of your value, brave in your actions, and bold in your progress.
Here's how you do it:
Introducing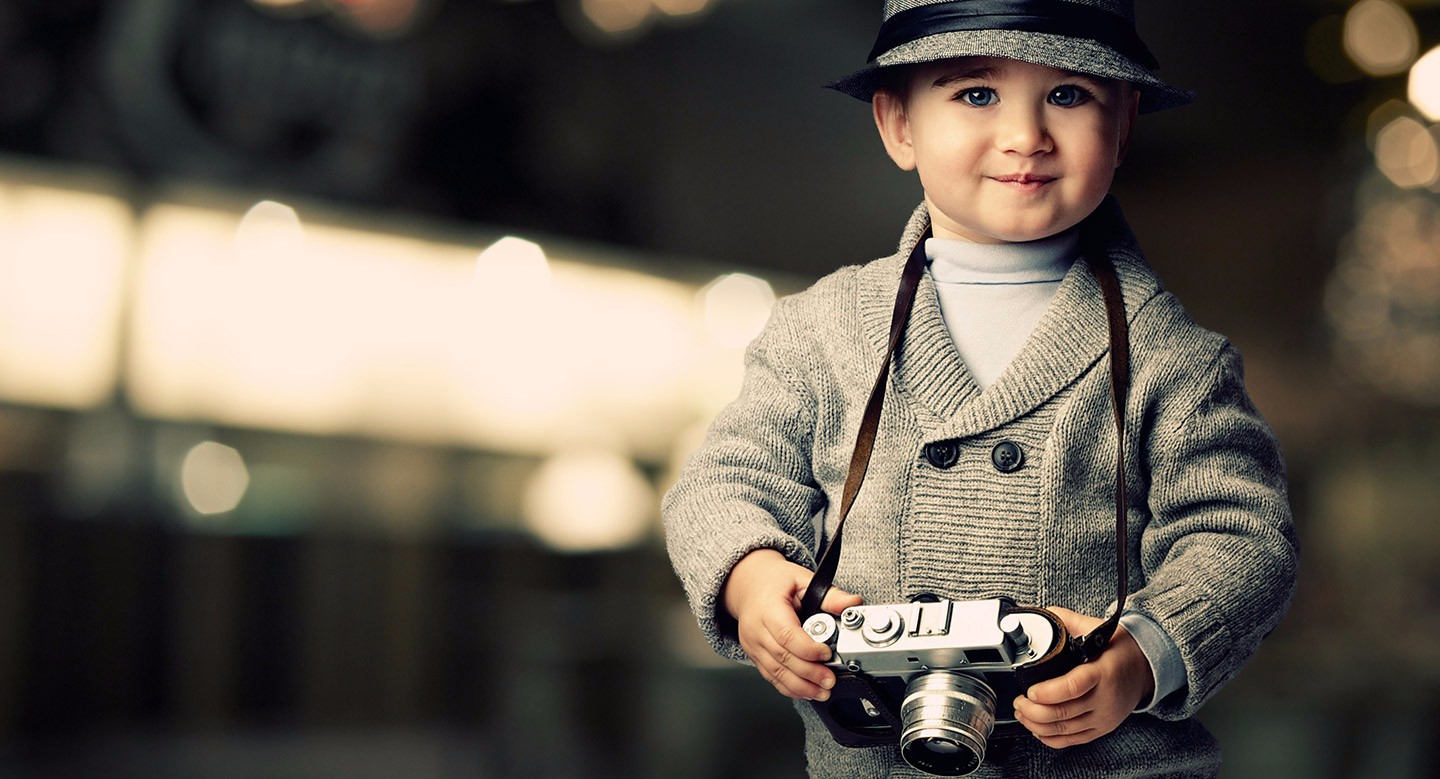 80/20 Confidence For Photographers
A five-day, action-packed course that guides you from self-doubt as a photographer to self-confidence as a professional, sure of the value you create and how to communicate it to your community.
The time is now. We can help. And you can transform the way you feel, act, and speak as a professional photographer.

Over the five modules of this course, you'll discover the five values you create as a professional photographer, start each day with fast action wins, go deep with situational exercises, brave-up with GOYAKOD (Get Off Your Arse and Knock On Doors) challenges, and punch Imposter Syndrome in its freaking face.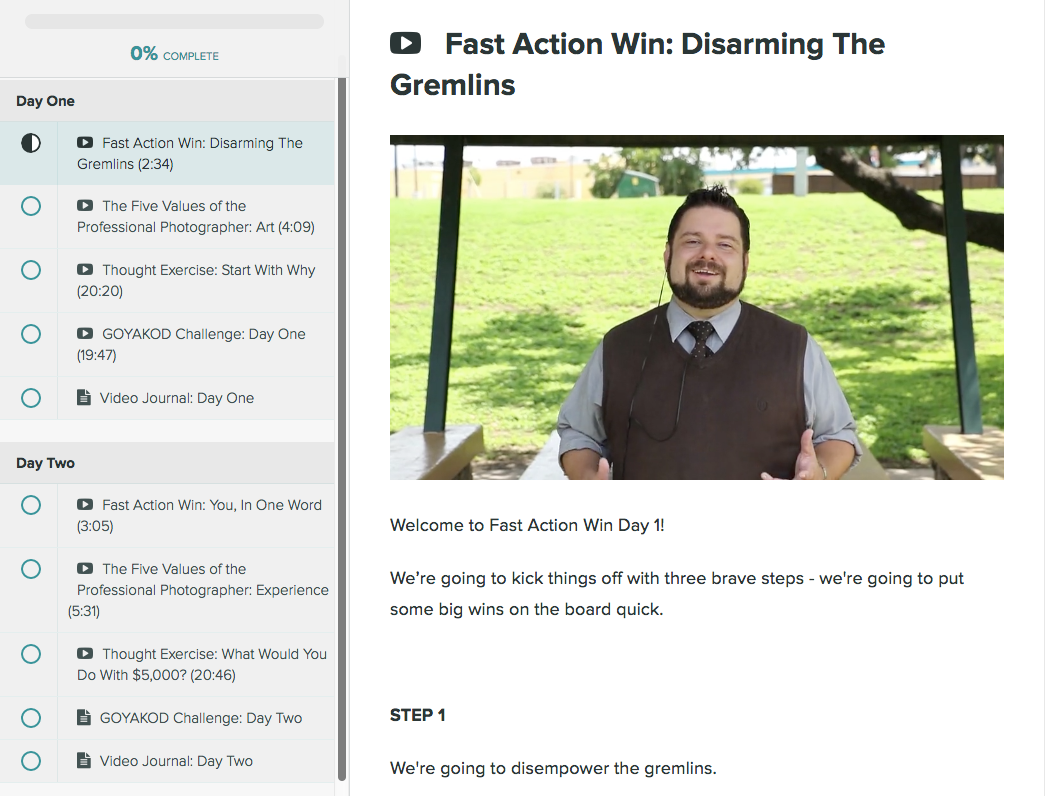 The Three Big, Hairy, Audacious Questions You Want Answered
Copywriter Josh Earl talks about how he loves it when a politician gets nailed to the wall by a direct, pointed question from a journalist. He likes to see the rascals squirm.
Here are the three big questions I bet you're anxious to ask right now:
Q: I'm a complete introvert. This course sounds like torture. Is 80/20 Confidence right for me?
A: Absolutely - let me explain. All of the exercises and challenges in this course are broken down into three tiers: Sassy, Bold, and Brave.
Sassy Challenges are for photographers who are ready to stretch their comfort zones to the max and experience the biggest gains in confidence and forward momentum. These are the 'hold on to your arse' challenges, and what you get to watch me on video do in the field inside the course.
Bold Challenges are for those folks who look at the Sassy challenge and say, "No way! I'd die if I tried to pull that off!" Such as the Day One challenge, you would choose to work with non-profits on a volunteer project instead of the Sassy challenge of crafting co-op marketing projects with other small business owners.
Brave Challenges make up a very special track for photographers who suffer from severe social anxiety. My wife faces this challenge, and has learned many ways to work around it while running a successful pet photography business. I have a special consideration for you brave souls who want to do more with your art and business, but don't know how in the face of your social anxiety. This track is for you.
Whatever your level of bravery, this course will push the edges of your comfort zone. You know the difference between something you're scared to do and something you can't do - choose accordingly, and you'll get the most out of your investment in this course.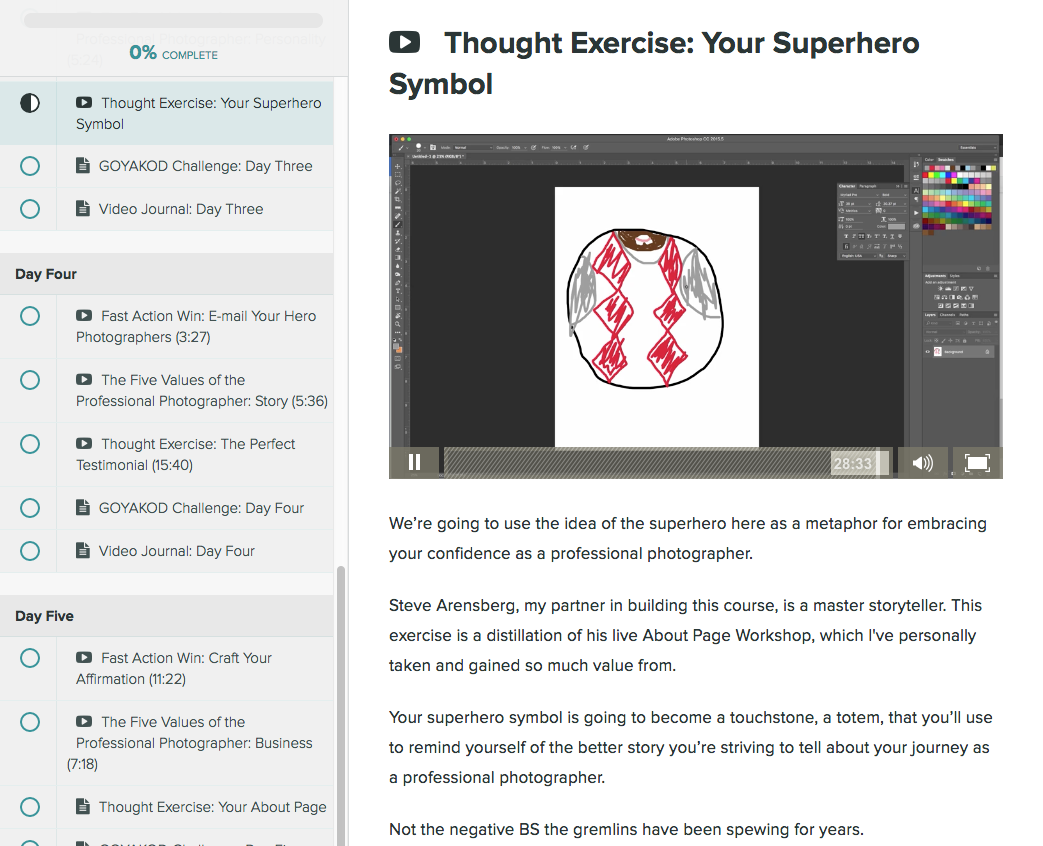 Q: This course doesn't look nearly as nice as the pretty CreativeLive courses. Are you for real? Why should I believe this course is any good?
A: Results. Meat and potatoes. I'm a part time professional photographer just like you, and no, I don't drive a Benz and I don't have a million-dollar studio. Over the last seven years, it's been my calling to help amateur photographers make the transition to paid professionals. You can read everything I've written since 2009 at www.parttimephoto.com. I am all about encouragement and clear Next Steps to help startup photographers get booked solid shooting clients they love for the pay they're worth.
My friend Steve Arensberg and I created this course because you asked for it - because the photographers I visit with on a daily basis consistently say a lack of confidence is the number one challenge holding them back. We've taken students through beta versions of this course with real, story-changing results, and what you are investing in today is the best, most refined, most effective release we've done yet.
I truly believe in my calling to help more artists get their work into the world, and earn fair pay for it. I know what a blessing professional photography has been to me, my wife, and my three kids - creatively, socially, and financially. And I want to bring those blessings to you, too.
Even if it's without 4K video, high-end graphic design, or a production studio in San Francisco.
Q: What's the guarantee? Can I get my money back if I'm not impressed with what I see inside?
A: 30 days, satisfaction guaranteed, no questions asked. If we can't help you make the breakthrough you're looking for, we'll gladly refund your money, and part as friends. You can invest in the course today, check it out anytime in the next 30 days, and decide if you want to keep it. Along with lifetime access, it's as zero risk an offer as I can possibly make. We stand behind our work.
I am not yet convinced sir! What else can you tell me?
80/20 Confidence For Photographers is a five-module intensive training that will help you finally break through your fears and make bold progress a daily habit.
As an 80/20 course (80 percent of the results in 20 percent of the time), you can finish the course in as little as five days working an hour a day, or one solid weekend. This is the confidence jumpstart you've been wishing for.
Fast Action Wins give you an immediate daily win, both in exercising your bravery and making tangible progress toward confidence and success as a professional photographer.
The Five Values Framework
The Five Values Framework shows you all the ways you create value for your clients (hint: your art isn't the only one!).
Thought Exercises help you work out in your head and heart exactly what wins you're striving for as a professional photographer, and why you're both capable and worthy of that success.
GOYAKOD Challenges push you to Get Off Your Arse And Knock On Doors; in other words, take bold action and make real progress toward your dream. (Don't panic: there are three tracks to fit your level of bravery, from "I'm so socially anxious that I can't talk on the phone much less approach strangers" to "I'm scared, but I'm ready to break through: just tell me what to do.")
Take back your power from the negative gremlins in your head by shining a spotlight on them, calling them out by name, and replacing their BS with the truth about the blessings you have to offer as a professional photographer. (Again, there's a special track here for those who aren't ready to talk on camera, even to themselves!)
By the end of this course, you won't recognize yourself: you'll walk taller, speak with passion and confidence, and make bold action a daily habit in your journey as a professional photographer.
If that doesn't sound like the breakthrough you need, I agree with you: you're in the wrong place.
But if this does sound like the kind of kick-in-the-arse you know you need to finally get unstuck, I can't encourage you enough: make the investment in your art, your business, and your self.
How many times have you just passively accepted discouragement, disappointment, and hopelessness?
NO MORE.
Your art and business are a blessing to your clients and community, and your responsibility as a professional is to connect the dots between the value you create and those who would be most blessed by it.
But you can't connect those dots if you won't GOYAKOD.